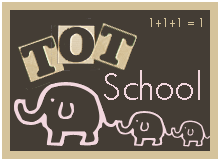 This week I had planned to start introducing Lil'man to the alphabet, but Sunday night I discovered that my brother and his daughters would be visiting for the week from out of town. So, my high hopes of doing some of the great activities at
Totally Tots
, went down the drain. We did have a lot of fun still playing with cousins. Lil'man is at the age were he likes to do what the big kids are doing and often mimics them. Check out the slide show below of all the great things we did.
Head over to Carissa's blog at
1+1+1=1
for some more Tot School posts.